Discover more from The Stoic CTO
Compounding learning journey in technology, startups, and Stoic philosophy.
Over 1,000 subscribers
The past two weekends, I haven't got much time to write. I had very painful headaches, and what I could do was rest and sleep the whole time.
These painful ailments made me reflect that my hard work on the weekdays may be useless if I can't enjoy what I have earned on the weekend.
In this post, I am sharing a short reflection on this and several other findings that may be interesting to you.
i. Protect our downsides to enjoy our upsides
People chase success more than they take care of themselves.
Everywhere we go on social media or the internet, we see that people generally want more success instead of protecting themselves from suffering.
We want to learn to make money or build a business through books, conferences, and podcasts. Even more so than to develop good budgeting skills or to practice limiting our desire to spend money.
Let alone learning to build resilience or practicing good mental health.
The examples of generating upsides that are easy to get viral:
How to get promoted

How to earn more money

How to get rich

How to enjoy life and get maximum happiness
Also, the equally important but often overlooked:
Understanding the rules not to get fired

Understand budgeting and living within our means

How to avoid going into poverty

How to avoid depression
Many resources are already there to help us maximize upsides, so I want to balance them with downside protection by sharing about Stoic philosophies in this newsletter.
Aside from how to be successful through tech and business, how can we balance it with good health and well-being?
Silicon Valley entrepreneurs taught us how to innovate and build tech companies.
The Stoics taught us how to manage our emotions, control our desire, and lead a virtuous life.
I believe achieving lasting success without prioritizing our physical and mental health is impossible. However, many people neglect these foundational aspects of life to pursue more material achievements.
We can learn upside maximization a lot easier. The drive can stem from external motivation and mimesis. Our surrounding environment is naturally enabling us this. We want what other, more successful people have.
To think about downsides, we must look inward and assess ourselves.
So let's step back from the world and what everyone else is chasing.
Then invest more in protecting our downsides.
For when the bad times come, we are safe.
And can get back up fast.
Thanks for reading! Consider subscribing to receive future posts every week or two 👋
ii. More active outside
Even though my weekends are mostly immobile, my weekdays are pretty active. I often joke to my friends that my headache only comes when I am not busy working.
I went to five different offline events last week. Everywhere in the world, more tech and startup events are coming offline. This is a great chance to break free from pandemic isolation and desk-bound bad habits. And meeting people in person also has a higher experience density than any online event would have.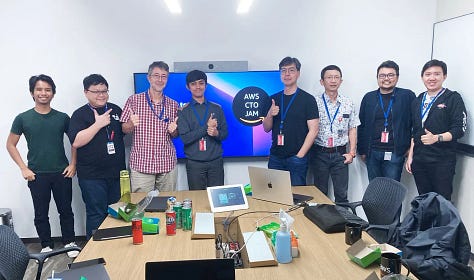 Also, meeting new people allows me to expand my luck surface area. The more people I have good relations with, the higher the odds are we will collaborate later.
iii. Reading the Foundation trilogy
I like science fiction, especially those that are published decades ago. It's fun to see what inventions turned out to be a reality and what are still dreams. For us technologists, they serve as a repository of incredible inventions waiting to be created. It's also refreshing to fill our imagination with new wild ideas.
Last week, I finally finished reading the esteemed Foundation trilogy by Isaac Asimov. I have heard about the novels for a long time but only managed to pick them up this year.
The books are surprisingly readable for works of literature that were written more than 70 years ago. They are short enough to finish in two or three sittings, and the suspense is a real page-turner.
The Foundation series contained seven books—three of the original trilogy, two sequels, and two prequels. I plan to read other sci-fi books before returning to the rest of this series.
The novels spawn hundreds of years in history and include an ensemble of characters. I thought it would be hard to make it into a movie or TV adaptation, but Apple TV made it nonetheless.
I also recently watched the first season, and it is pretty good! The acting of Lee Pace, whom you might know as Thranduil, the Elven king from The Hobbit movies, is marvelous in playing Emperor Cleon I.
The second season of Foundation will air in two weeks. I am very much looking toward to enjoying the show.
iv. AI and the burden of knowledge
Mario Gabriele of The Generalist wrote a fascinating fable on the difference between humans and AI in handling new knowledge.
For humans, we are not born at the frontier of knowledge. We need to learn from the knowledge passed on by the previous generations.
So as the frontier is pushed further out, reaching it takes future generations longer. This is the "burden of knowledge."
The more we know, the more the next generations must learn to expand the frontier further.
However, AI does not suffer from the burden of knowledge. The technology does not degrade or die, but it simply improves.
AI today is the worst it will ever be. It will only improve. Bigger datasets. Better architecture. More aligned models.
Thousands of researchers are working on it and billions of dollars are being poured.
Mario then proposed several explanations for resolving the impending gap between humans and artificial intelligence. Should we build a tool to live forever and elevate our minds with brain-computer interfaces? What should we do in modern life that humans increasingly do not understand?
v. Top finds
1. 🖼️ Growing engineering career, a mind map
My friend
built a vast
map
of what areas an engineer should try to grow. For engineers, these can be a great starting point to evaluate your current state. For managers, it can spark ideas on how you would help your team members improve.
2. 📰 Developreneur newsletter
wrote an excellent
newsletter
for developers wanting to be entrepreneurs. Starting as an entrepreneur has never been easier, yet there are mistakes that people can easily overlook too. Reading the stories of those who have made the move is a great way to learn and avoid mistakes.
His post below on managing money for entrepreneurs is a gem.
3. 📺 The Three-Body Problem trailer launch
The novel of the same name by Cixin Liu is one of the best sci-fi novels I have read. Usually, science-fiction books revolve around America. This novel, however, views it from a China-centric perspective.
What's more interesting, the TV adaptation of the novel is produced by the same set of people who produced Game of Thrones, David Benioff and D.B. Weiss. Many fans hate this, especially after watching how they handled the Game of Thrones final season.
However, that problem may not be happening here because the materials in The Three Body Problem are finished, unlike in Game of Thrones, where the materials for the final seasons did not exist.
Thanks for reading! Consider subscribing to receive future posts every week or two 👋